Bad girl Nice girl Bad girl Nice
One fine day, good ol me wuz wailing about getting a pathetic hit rate with S'porean boys cause I am so cho-lor, loud, vulgar, assertive and intimidating.
A thoughtful friend of mine then nicely advised:

" Cell babe, you hor.. in a shop, would be propped up on the display window, dressed sui sui... People may walk in when they see you at the display, but they will confirm walk out buying something else one..."


HEH???? WAHLAU LEEHH!!
LET ME collect dust at the display window till I have gone obsolete ahhh????????
How like that ??.. jia lat BIG time.
What's so good about nice, submissive girls anyway??
But since the guys are crazy over them, I also want to be!!
I did train very hard to be one, but not surprisingly failed very badly.
1. I just CANNOT cross my legs the ladylike way. Thighs too fat, keep slipping off. Seriously, I have to cross it by propping ankle on the other leg's knee ala kopitiam.
2. I also CANNOT not speak up when I've got curry powder and pepper to add to a discussion.
3. I also CANNOT speak nicely below 20 decibels (bad rough estimation.. how to measure anyway)
4. I also CANNOT giggle and laugh feminimly like those sweet,docile geishas..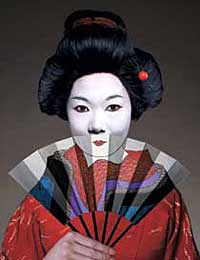 aeehh.. giggle like bunghole kanna plugged like that.
*DAMN!! I thought the Japs are good with make-ups*
5. I also CANNOT wear a very lavish long gown without stepping all over the seams and fall into the longkangs (drains).
Aiyahh.. during balls and D&D, my friends wouldl just snort at me
".. Alamak.. cow wearin' dress.."
So, too bad then. I'd just have to be the girl who walks like a duck, sits like a chi-ko peh, laughs like a hyena and talks like a cheap, Made in China speaker turned fullblast.
To aid your comparisons between girly girls and manly girls, and boost some endorphine level.
Let's see some gurly gers.....
*Miss Fish Leong.

Hmm.. Saccharine schweeet, my teeth are aching just by looking at her.
But, yah.. very gurly indeed.. this is the type most S'Pore guys go for. At least on my agenda.
AND AND AND>>....
Let's see some kick ass babe......
Warning: SEXINESS LEVEL 5/5!!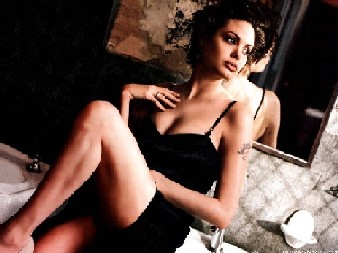 *The one and only Angelina Jolie*
Aorrrr.......Heh.. if I were a bloke, I'd shag Jolie anytime.
Like, who wouldn't aye?!
But anyhow, that's not the point.
The point is I can never be like Miss Fish.
If I were a fish, I'd be a freaking Piranha.
Hmm..Now I wonder how I'd fare if I were a gurly girl..
Hence, the acutely 'cute' pic is shown below..
(tryin dammmnn hard to look cute)
AIYOORRRRR!! ACT SO CUTE I WANNA PUKE!!!
YUCKK!
I prefer myself in a more kick ass version...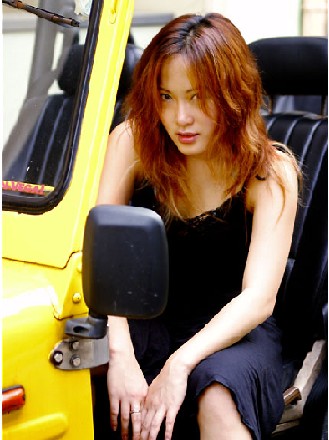 *so much more like me..dunno how to sit properly *
Maybe my market is not here. It's in Taiwan, UK, US or OZZI.
They like vulgar, KNS rude, lewd, shrewd girls more.. hahahha..
Anyway, I went to play 3 hours of badminton today. This is almost my fortnight worth of exercising. Apparently the new, cheap rackets I bought were heavy like dumb-bells.
I was like lifting weights in between shots. I then realised my right arm is dammm KNS huge and the left one damnn char bo..
So, halfway through the matches, I switched to left hand. Not too bad!
At least can hit some cocks, but a tad pathetic, like frying char kway teow lidat, left hand iz damn retarded.
Completely knackered today, heh. Brain
dead.
I end with an intelligent riddle ok? Whoever gets it right gets e-dollars from me!!!
The amount cannot be disclosed just yet, but it's a few figure sum! SO.. crack brain! NOW!
QUIZ QUIZ!: What is
it
that will disappear the moment it's name is called out?