Behold for I've been Artsified!
The past week has been very arty farty for me. And I lubby lubbed lubbed it!
1. S11
I was recently invited to the press screening of S11, a locally produced movie. Thanks to
sassyjan.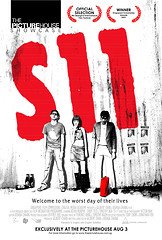 It will be screening at the PictureHouse soon, on 3rd August If I am not wrong.
This is my take on the movie:
Being locally produced, a lot of the events depicted make it closer to our hearts, it will on the other hand, be enlightening for the
angmohs.
The fact that it's got so much Hokkian vulgarities somehow make it even closer to our hearts.. hahahaha...
It's really pretty awesome.
The story revolves a pretty simple scenario actually, 3 people are enduring the worst day of their lives. They met and a whole new concoction evolved.
The way they re-depicted a few scenes three times, through the eyes of the 3 different people was a genius move. And it ended with the whole thing kinda making sense, how the three 'stories' gradually weave one another very nicely kinda get you on your toes.
Not to forget, the
bu
is
chio
.
She's the typically skinny, lanky
ah lian
, but with a twist. She's one angsty go getter, my kinda girllll... Nuff reason to watch.
She wears very short short skirt also. And very short short top.
Nuff said.
So, I suppose, if you have time, go and watch. Support local productions lah.
Speaking of local productions. I found another gem.
CABARET
2. Cabaret
I spent Sunday afternoon at the lovely Durians of ours.
"Life is a cabaret oh chum. Life is a Cabaretttttttttttt"

I've been singing this line since Sunday. Ha.
FeiXiang was WooOOOTTT Sexy! He was... hmm.. different. That sexy German accent made my toes curl tooo..
Emma was her usual gem and the cast was just awesome. I am a new fan of Jason Chan who played Bradshaw too.
In case you didn't know. Cabaret is a show about a rather righteous American novelist coming to Germany, and introduced to the crazy lives revolving Kit Kat Club and a motel/closet brothel in Berlin, during the Nazi revolution era. KitKat is a promiscous club, full of scandals, crazy free spirits, smelling of sex. sex. SEX. It's just hilarious. They were unafraid of acting out the dirtiest scenes and jokes. I laughed my ass off.
I can't get over the way Fei Xiang, a cabaret girl and a cabaret boy, made fun of a long bolster and two small roundish pillows.
Heh heh.
Well done Singapore. Well done Toy Factory.
Mark Richmond had a role too. And his wife Beat was directing it very awesomely of course.
The dance bit was coreographed by Zaini Tahir of NUS Dance Ensemble. NOw that rings a bell.
I was once part of Ensemble until I left it for NUS Dance Blast which celebrated hip hop.
Zaini has always been amazing lah.
The whole thing was just awesome. Really.
Dirty, sexy, sassy, entertaining, A BIG LAUGHHHHHH!!!!
It was shown for 2 and half hour too. Worth every penny lah.
One more thing, the set.
Ofyuckinghell, the set was amazinngggggg... Goh Boon Teck is a genius!!!!
Watching Cabaret makes me ponder. Can I leave my 'correct' career to pursue my dreams of being a musical star like Emma???
Hmmm....
This is me and mom at the Esplanade
"Life is a cabaret Oh chummmm..."
Ahh... this gave me more drive and inspiration to finish up my musical too.
Maybe I soon , should talk about this musical I am writing. I am so bloody excited.
After given the chance to star in Love is In The Air at the Esplanade in June. I am now writing my own musical for the Musical Theatre Society, they're like an up and coming Toy Factory.
I keep revamping the script and it's always almost done. Thanks so much to the comments and tips from the MTS veterans.
Clement dear is nicely doing the music. I've heard a few done ones and it's really pretty good.
Let's hope it all ends well. If nothing goes wrong. It should be staged in Esplanade next year.
Hopefully it'd be good enough for the Theatre.
Ah, I'd like to have a starring role in it too. *beaming*
3. Ballet Under The Stars
Like as if one freaking good show in Sunday was not enough. I got free tix to the Ballet.
Thanks to Sandy babe and her friend, muax muax..
So, naturally, off I went, after finishing the Cabaret matinee show, with my mom.
It was lovely..
I supposed it needs no introduction, being around for 11 bloody years in Singapore.
Each year, not failing to capture the keen eyes of such a big audience.
Everyone would picnic away, sitting on the grass, basking in moonlight. Though in that day's context, basking under the thick clouds was more like it.
Nevertheless, the show was breathtaking. Nothing is quite as beautiful as ballet.
Mom loved it and I guess that was almost all that mattered.
Right then, I wanted to be a ballerina again.
____________
Marcelly,
what THE HELL do you really want? SING, DANCE, ACT! Be BANKER, Open Indon Restaurant! Write musical! Star in musical! Invent green sustainable fuel?? Invent Hybrid Cells??! Open a Male Escort infested club!? Be a TAI TAI??!! WHAT DO YOU WANT????cant haVE IT ALL YOU KNOW???
Now that you've no full time job and is as free as a bird. Go and reflect a bit okay?
On top of that, of course help mom sweep the floor, hang the clothes and maybe cut the veggies. Worry not. No cooking for me. I wont taint her flawless artwork or the guests wont eat well.
=)