GSS MY ASS, MUSICAL and BIG ASS BakPAO
WHY IS IT BAD TO SHOP DURING GSS
GSS: GREAT SINGKAPOH SALE
More like Sibey Kaypoh Sale.
Thing is, all the shops are well aware of how many shoppers would be patronising all the shops during this time, regardless of a truly good sale. People would come to kaypoh loh..
"Why they queueing??? Let's go see see.."
They see people buying 5 shirts and they'd go :" Must be velly good bargain, we also go buy.."
OKay lor,.
So, they don't really have to go all the way and cut down their prices so that people will patronise their shops and buy a few stuff.
Customers will come flooding no matter what.
Coz, it's the
SALE
season! anyway!
When seriously, I don't find the bargains to be too amazing.
Most shops are NOT going at the lowest they can go. I know how low most can go sometimes.
They are only slightly cheaper, for the sake of being sporting and participative.
But, I wouldn't say it's freaking cheap or what.
Nevertheless, let's enjoy this commercially festive season. It's GSS.
There are some shops haveing better bargains than others.
Actually Courts SALE ain't so bad. Charles & Keith SALE is quite rubbish. 10%-20% is not SALE , you geddit?? It's cheating!
I want to see 70-80% !!!
Heh heh.
By the way..
The Musical I was in, LOVE IS IN THE AIR last Saturday was a success.. I was really happy.
We were commercially viable as well.
We were sold out most nights and the feedback has been great.
the rest of the musicals for The NEw Wave were all sold out and enjoying great reviews.. I think we are making wavessss!!!!
We were reviewed in yesterday's TODAY and they awarded us with
4 out of 5
stars.
NOT BAD AT ALL!!!
I was so happy..=)
Thank you for those who came to support.
Thank you to my lovely friends : Violet, Shiling,Sandy, Jackie and their equally lovely boyfriends, plus Decai too.
Thank you for the sunflowers, babies!!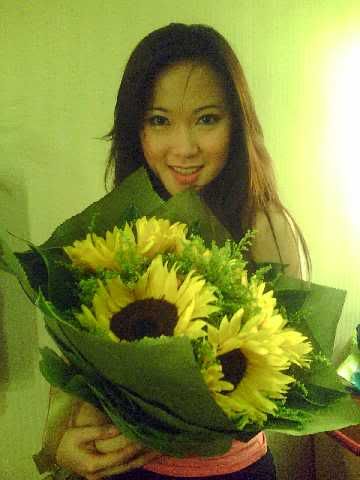 My mom and brother were there and I hope my mom felt proud of me.
Here is me and Shahdon 'my hubby' of LOVE is in THE AIR.
Shahdon is an amazing vocalist.
Here is the very talented August who composed the musical.
BTW, I shall rip the DVD nd show some bits of the show on blog. Can someone tell me what's the HTML tag to display video clips???
SHANK YOIU!!!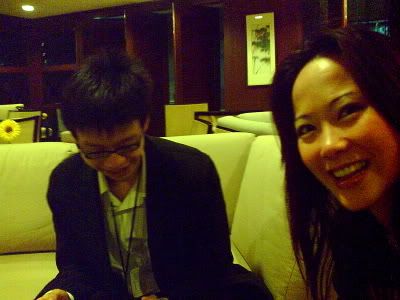 August and me.
I have many more photoes but they were on everyone else's camera, so those ones gotta wait =)....
It was a busy but fulfilling weekend anyway.

There is one last thing.
I found a great new makan place.
------
BIG ASS BAK PAO AT BUKIT BATOK EAST AVENUE 3 HAWKER.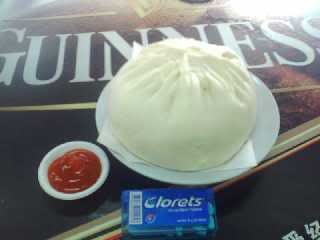 *
Crement and me went for breakfast one rainy day, sometime last week.
I saw this big ass bak pao when the uncle openned his bamboo steaming baskets (also big ass ones), I gasped..
" AH NE TUAAAA AHH??"
Heh Heh..
Very big bak pao...
Does it look big? It's huge lah. about 18 cm in diameter at least.
Compare with The chilli bowl leh, and the Clorets box. It's huge lah.
I had trouble opening my mouth to bite it.

You guys should go and check it out. Inside got meat, mushroom, egg, salted egg.. like treasure hunt inside, mang.


Bukit Batok East Ave 3 hawker okay! One of the newer food court, can't remember the exact name though.
See ya!!!!
It's sunshine everyday!
Screw the downpours...!