The View from the beach is a by**ch
Yesterday I went to Mambo, gargled a bottle of Martini and killed the crowd.
I've been bad... thus I'd like to say
sorry
to a few entities:
-to my throat, for I've killed it.
-to my liver, for I've destroyed it.
-to my lungs, for I've abused it.
-to my friends, for I've annoyed them.
-to clubbing bloggers for meeting me in such an UNSIGHTLY state.
-to Zouk, for just letting me in.
-to John for F-U-ing him for coming to mambo.
-to the vigorously dancing-ahbengs whom I made fun of.
-to the passing-by stream of crowds whom I swore at.
-to the bartender who bought me drinks but I MIA-ed from.
-to the drunken angmohs who tried to catch cab for me at BoatQuay.
-to you blog readers for having to read such a long stupid list...
Heh.......
Anyway....
On Monday, I went to Sentosa.
Hmm..
I grabbed a bottle of Hoegaarden ans strolled happily along..
*..Nice German imported sand beneath my feet...
*...Nice scorching sunrays on my back...
*....Nice bikinied, tanned beach bums within sight...
*...Nice jerami-roofed huts made me giggle....
I then lied down across Jac's sarong and lazily looked into the distance.
What did I see??
.
.
.
EEEEKKKKKKKk!!!!!
TANKER!!!!!!!!!!!!!!
Hold on...
Ok ...I think I saw something else..
..
.
.
MORE TANKERS!!!!!!!!!!
Is something bloody wrong here???
I got up and screamed:
" Arent they supposed to be banned here?? "
Not like cute, hunky sailors are gonna jump out of the tankers and visit us onshore!!!
*Wait LONG LONG...........
*Waill..*
I think they should somehow rearrange the whole town planning a bit sial..
Let's study Singapore's map..
This is limpeh's suggestion.
But I dunno lahh.. may not be doable.
Or those places already have numerous tankers.
But if they wanna make Sentosa a ' Phuket', the view needs some working man....
Spilled oil from tankers also stink the water....
I know that Singapore wants to make Singapore more 'happening'.
So, how can they make the Sentosa beaches much more happening despite the limited resources available.
-More parties--- especially rave and fullmoon parties. Thumbs up for ZoukOut.
-No tankers please.
-Thongs on the beach as bikini code.Or monokini.
*yum yum...
-Nude beach is a bit far fetched, but seriously our babes have bodies wayyyy fitter than those in Ozzie, etc.
Even these fatty angmohs go a bit nuder. Plus, the nuder the less tanlines!
-Poster change.....
Forget about kids and family pictures...
Something like this with
Real
models would make Sentosa damn hoootttt...
Heh.
For
the ROCKERS...
Here're some gigs to go to.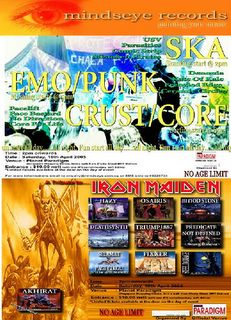 o

Its on the
16th and 30th of May
for SKA/EMO/PUNK and IRONMAIDEN tribute respectively.
at Planet Paradigm from 2 pm onwards.
Planet Paradigm is at Dhoby Gaut, opposite Plaza Singapura.
The bands play all day long til late night. and they are pretty good too...
Rock on!!!