How to be a Chinese Pop star
This entry is purely MY own personal view on the majorly crappy Asian pop scene.
Eventhough there are some real talents, the majority is filled with annoying bubblegum popsters.
If you judge me upon reading. Fyuck off ! But come back another day k... hehezz...
Anyway.. everyone would like to get famous, aint it?
At the mention of fame, all the bling bling, glam imagery flashes before you.
Now, to get realistic. We are in Asia. Where's the spot to glow at?
S'pore, M'sia, Taiwan, HK, a bit of Thailand and recently China.
So, what are you gonna sing?
Chinese.. and probably a bit of English.
So, how to become a Chinese Popstar?
Somehow, I really meant female Chinese popstar,
First of all, do you have the face?
You have to have a face that looks something like this.
Sweet and cute.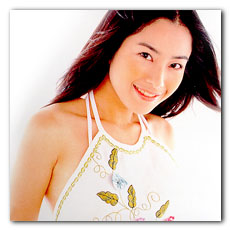 *Yuki in my Mitsubishi..*
You have to have arms that looks like this....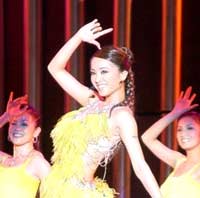 *Jolin has bones plus skin for arms*
Preferably you have legs that look like this.
o

*the longer the better..old rule applies*
So what skills do you need to have?
As long as you can pronounce A E I O U
about
right and able to shake your fingers abit at the camera and smile to the broadest you can.
You are there.
*If dont feel smiling like the rest, look solemn also can la..*
Voice.

Nah.. that's not important. We don't care if you fyuckin sound like a quacking duck.
Besides,the recording studios have all the sophisticated electronic equipment and sound engineers to right your pitch and smoothen your cracky shit voice.
So, as long as you make a few sounds, it's owkay lar..
But you must be willing to stuff ping pong balls up for the producer.
Dancing skills.
Eh... in Asia, that's not too relevant also. Forget about learning to dance like Britney.
As long as you can wave hellow, act cute and shake a bit like a moron...
Producer: Can you dance?
Artiste: ah yess yes..
Producer: Lemme see.. Can you pirouette
?
Astiste: Err.. What's that?
Producer: Nevermind. What about hip hop? Can you lock and pop?
Artiste: ehh..hmm Yes! I love to sing pop!
Producer: Ok Nevermind. Can you wag your fingers and smile?
Artiste:
*Wag finger and smile the broadest possible.*
Producer: Ok lah will do...
Songwriting skills:
Artiste: Ya ya!! I can write lyrics. I wrote a few about my boyfriends.
Producer: Are you kidding? Dont need la.. If you make many many hits, maybe we'll tell the media you wrote one of the songs ok. Not the hit one of course. Don't worry, for your real lyrics, go put in your blog or something la.. But please keep the blog anonymous, we dont wanna look bad. As in.. we dont wanna seem like we dont know how to choose our artistes. .. Er.. Yah..
Lipsync.
This is damn essential. For your concerts of course.
Dont bother singing.
DOnt worry, the angmohs also cheat a bit one.
And when the media finds out, they'll bitch about you, but hey!
That's even more publication. It's all good... !
*Ashlee also cheat...*
Artiste: But..It's LIVE leh.. I want to SING!!!
Producer: Nahh.. too much to learn ah.. Just practise your lypsinc godammit. Ask so much!You think you what? Singer ah??
English Language skills:
As long you can say..
"I Wouv yiew all! Shank you ..Shank you!"
can already.
Interview skills:
Are you kidding? Just be yourself. A moron watever.. the media loves stupid celebrities.
Tell them you think F4 dudes are shaggable but they've got no talent, tell them your grandma just turned 60, tell the media you like to shop in ToaPayoh Central.
Tell them anything you want.
But remember to smile a goddamn lots ok?
So, in all..
Focus on the following:
Smiling, signing autographs and eating nothing but celery everyday.
Flash info: Celery is a negative calorie food. It burns more calorie to heat up and digest than the intake of calorie value of the food itself.
*P/S: this is why at dinners I'd eat one piece of steak, then followed by 3 crates of celeries, positive + negative = zero... Apparently, it doesn's really work for me. Maybe I calculate wrongly.*

However, if you have the voice, dance moves and all the she-bangs.
You probably won't have the luck. So, you won't make it big. Stick to singing in those bloody showers, toilets, KTVs and pubs. Boo Hoo hoo..

__________________________________________

I just finished the Arsenal-Liverpool Match. 3-1!!! YAY!!!
Sorry people, but Liverpool and their inconsistent performance suck balls.
England's biggest bookie Ladbrokes, I realised ..has the most puzzling name.
Lad broke . s. Lads! You go in and bet and you'd go broke! You geddit??!!