Eat,Eat, Man, Woman
This entry lists out the foods much loved by the males and and the foods much loved by the females.
It was sprung up from a conversation with my velly adorable good buddie.
Me and DC were eating desserts one fine day after dinner. Eons Ago actually.
We both got ourselves a cone of ice cream with 2 scoops each.
Before I started licking the ice cream for the 5th time, the bugger has finished the hump portruding out of the cone.
ME: Wharr piang leee... you hungry or wat..???

DC: Wat watt...?????? *licking the already concave ice cream top*
ME: Mine like haven even melt yet..
DC: Heheh.. well, you shouldn't be surprised what...., if it was a paddle pop, or those ice creams on sticks, you sure finish waayyy before me..!! *licking somemore*
Me: True lehh.. I don't think you would enjoy it anyway.

DC: Yeah.. give me cone sundaes anytime mann..... *licking and grinning away*
Me: Eh..., can dont look at me when you do that?

DC: Who looking at YOU? Siao! Look at you, all my ice cream freeze lah!
See.. *eyeing the sweet looking girl walking around* ..
The kway chap girl quite pretty hor..
Me: Ocht....k la..
So,
Man, woman, eat different things. Shall we list them?
MALE FOODS: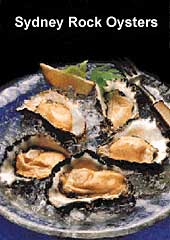 1. Oysters..
I must say the look and the smell have striking resemblance to_______!!!!
The fact that it is a powerful aphrodisiac is also a BIG bonus.
Most would eat rock oysters raw. They just lurrveee it..
*shrugss...* But, I don't eat things raw..I only do things raw..
And yes, Sydney has some of the best rock oysters..
2. Ice creams:
Not all ice creams are appealing to the men.
Even if it's a sundae.
Strawberry sauce on a sundae dun look so good...
.
.
Err.. kinda remind me of.. er.....
Aiyah..
just dont use strawberry sauce ok?
If it's got two humps and lotsa whipped cream...
Definitely a yes.
For those of you who cannot be torn away from local delicacies,
there are a few Singapore foods to choose from too.
Singapore foods: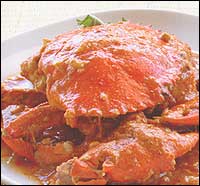 Chilli Crabs!!
Eat with hands, no spoons, no gloves.. savour every drop.
Chilli Crab is one of the best things about Singapore!
Tulang
If you dont know tulang, aiyorrrr.. go to the nearest Malay restaurant and eat.
It's so fun to eat. A lot of slurping involved. Make your guys practise!
FEMALE FOODS:
1. Bratwursts.
A Classic.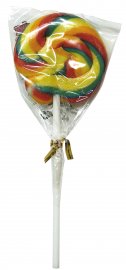 2. Lollies.
Another classic.
English delicacies:
3.Spotted Dick.
Yep, there's such food and it's delicious.
Undoubtedly one of my favourites during my growing up days in England,
The English Traditional Dessert looks like this...
Yum...
I like..becoz it's sweet, creamy and got lotsa a raisins!! OK!
And now for the local scene....
Singapore foods for Ladies:
1.Goreng Pisang
Local classic.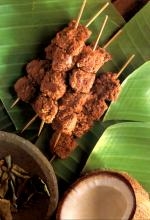 2. Satays..
Eat from end.. then side.. then end.. like that more fun.
But dont choke..
If too long then sideways.. You should know what to do laa..
Ok la.. now you guys know where to take your men/ladies for dinner.