Pwease Be Kind to Animals..
Didja know??
That... The Zoo in Singapore has one of the widest variety of animals??
That... The Singapore night safari is not any less remarkable?
That... they share the animals in both places..
Therefore........
Didja know ....
That the animals need to work DOUBLE SHIFTS????
am- at the zoo,
pm-at the night safari..
Yeah,
bo pian
what.. how many sabre t0oth tigers can Spore afford..
bo pian
must double shift
(* ok.. sabre tooth dun have.. tigers got...)
But that explains why the animals are always sleeping whenever you visit the Zoo isnt it?
Poor beastly things have to work all day.
It's almost like each is opening a 7-11 all by themselves. Heh.
Let's see some konking geezers..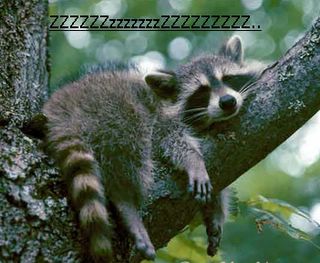 EH!!!! STOOPIDD RACCOOONN!!!
Hehe.. actually looks damn cute horrr.r.. kuchee kucheeee*tickle*...
Will he fall off the tree if I tickle him?? So fun!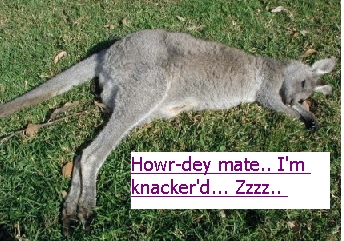 EH!!! You think wat? Ozzie ah? There you can sleep all day lah..
This is Singapore dei! We work round the clock one!
I think for the exceptional case of this Atlantic seal....
a bit
bo pian
horr.. must be the darn jet lag..
Sheesh man.. his sleeping position cant be more hideous !
Like that shiok meh? He looks like he's doing yoga actually..
SOOOO...
All these evidence of low motivation at work has raised the need to well-treat these animal workers in the organisations.
Therefore certain measures need to be observed and adopted to maintain harmony in the zoo and increase each animal's job satisfaction.
This includes:
1. The encouragement for them to embrace diversity:
(They should appreaciate one another's strength (e.g licking skills, tick-eating skills), and disregard the differences such as the fact that some are hairy, some are spotty and some are fyucking ugly (e.g hippo, yak),
therefore the lions won't eat the deers, tigers won't eat their keepers)
2. The increase of trust, therefore inducing higher co-operation:
(taking turn to sleep to effectively achieve both customer's satisfaction and sufficient resting time)
3. The increase of Emotional Intelligence, therefore the increase of each animal's self confidence:
(so that the boars won't think they are fugly creatures and let themselves get bullied by the evil lions and be made fun of in Disney's cartoons).
An appropriate example: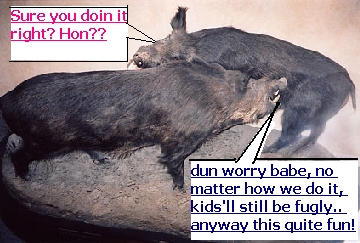 4. The setting of equal rewards.
(If the tigers get New Zealand sirloin steak, SO SHOULD THE ostriches!! Look at how thin they've become!! Bloody unjust zookeepers!!!
*Dey call me anorexic, I'm really not,
I dun even have energy to keep my eyes open and stay upright..hmmpph..*
5. The importance of learning imperative.
Yes, these animals must learn how to adjust in the ever changing world,
This world is getting more hi-tech!!!
I just received email from an overseas bitch the other day. Quite impressive huh.
6. The ever-readiness to face the ever-changing world.
(They must be aware that if they keep sleeping on their job, we might replace them with battey-operated duracell bunnies, howling tigers and drumming pandas). Therefore, buck up fellas!!
Message to the public: So , now you know why these animals are actually trying to look all cute for you in the zoo, but can't.
Be kind to them and pass them
hongbao
s so that they can run off one day.
*
bo pian
: no choice
*
hongbaos
: red packet with $$ in it.
Ok.. I am going mambo now.
Here's me before heading out...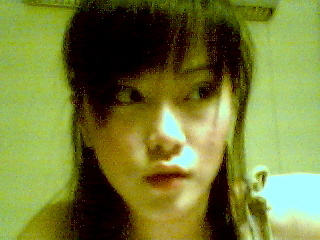 TATA!! have a good day and be kind to animals!!