Guide to the Right Member
Oh goattt. my paper sucked..
But, anyway.. here is
AuntCelly's marvellous tips for the ladies, as promised.
AUNTCELLY's Special Guide to " The Right Member"
This entry is solely dedicated to the ladies and boys who love boys.
And of course nosy lads who'd like a double check.
So, how do you predict the ideal member?
Ok, let's make it slightly clearer,
How do you predict the size of a bloke's genitalia?
This could be useful for those who wish not to fall in love with Mr Wrong-in-the-End.
--Think Samantha Jones of SATC who cried over her much adored cocktail-gherkin-boy friend. Quite tragic.*She's my heroic bitch by the way!*
So, today AUNTIE here shall analyse each method, discus and conclude, therefore clear the myths.
There are a few methods you can adapt to do this.
Some are traditional, some are conventional, some are practical,
but none of them is 100% accurate.
So, to prove your hypthesis and be REALLY REALLY sure , you'd definitely have to investigate the specimen fully. Eye-to-eye. *ur eye to its eye*
When measuring, ensure that you start from the base. And use the centre of the circle (approximately is a circle) as your datum. Use a bloody ruler, not just gauging from a distance. Parallax error can be damaging.
Methods of predicting:
1. There's the classic " Tall guy Short guy" Rule
The Tall guy rule as clearly depicted in the picture, concludes that tall guys having mini wonkas.
The Short Guy Rule as clearly depicted in the picture, concludes that short guy has long john silver.
AUNTIE's Verdict:
NOT ACCURATE AT ALL!!!!!
Short , tall , short, long.. no pattern whatsoever. So, this is a myth.
2. The Calves Rule: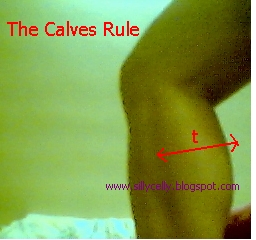 The Calves Rule concludes that blokes with fat calves have thick wonkas.
AUNTIE's Verdict: 80% ACCURATE. Can gif him
chan
larr..
*chan
: chance
3. The Fingers Rule
The Finger Rule concludes that length and thickness of bloke's fingers are proportional to his wonka's statistics.
AUNTIE's Verdict:
Length wise : Complete Bullshit.
Thickness wise: 70% accurate. Whatever tickles you fancy.
4. The Finger Fold Rule.
The Finger Fold Rule concludes that the gap between his tip of his folded finger and the wrist (labelled as x) is inversely proportional to his wonka's length.
i.e small gap = long, big gap = short.
AUNTIE's verdict : 90% accurate. Go check your male friends' ones now. And start shortlisting.
Disclaimer:
The above mentioned theories were derived from terribly pathetic amount of sample.
Therefore, should any discrepancies arise (your view/experience/evidence).
AUNTIE shall not be held liable.
____________________
****
There will be a part 2 to this.
Called: :" The Right Member to hit G"
It shall discus about the importance of length, thickness and shape.
Stay tuned... AUNTIE is currently conducting research.