Goku Shabu2 at Sudirman One.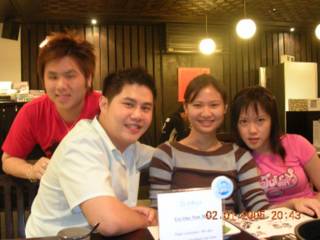 At Goku.. Havin a ball eating shabu shabu.. hehehe.. Tommy, Jimmy, Ting (muax) and lookin-very-tired me.. Had a ridiculous but hilarious conversation about getting possessed, Bali's famous holy snake and the guys' holy snakes.. T.T.... TOTEMO BAKA DESU! Was laughing louder than the jazzy music Goku was serenading us with..!

Missing in pictures are more of Jimmy's cousins, Rudy and Thomas, Joyce, Rudy's gf and Adison.. gosh.. as if writing year book .. bleah...